One of the most dramatic changes your body will definitely experience is during pregnancy. Just within a span of a few months, you could weigh 10 to 14 kilograms more than you normally weighed. Towards the end of pregnancy, the uterus and its lining will expand some 400 times its normal size thereby greatly distending the abdomen. While the transition from being pregnant to being a mum may happen overnight, it takes weeks or even months for the body to recover from pregnancy and childbirth.
New mums are usually apprehensive about losing the extra kilograms they gained during pregnancy to look as fit as they used to be. Though about five to seven kilograms comes off immediately after childbirth, it could take another six-seven weeks subsequently to shed off a considerable amount of weight. The first questions many ask are: How do I go back in shape? How do I get my body back?
Getting back to "normal" after childbirth is a process that transcends just drafting a good workout routine. While the enthusiasm for a workout plan increases, it is worthy to note that proper breastfeeding plays a crucial role in the journey of weight loss for mums alongside offering the new born babies adequately balanced nutrition and fortifying infants against diseases.
Breastfeeding also decreases a mother's risk of developing breast cancer and ovarian cancer. Since energy is required for a healthy production of breast milk, nursing moms should eat an additional snack, like a cup of yoghurt or a piece of fruit to get an additional 300 calories daily. Don't worry breastfeeding will help you lose the baby weight even with this extra food as long as you're eating healthy and not overdoing it.
When can I resume my workouts?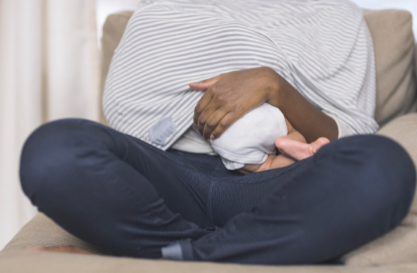 The answer to this question usually depends on the method of delivery; C-section or vaginal delivery. A healthy pregnancy and a normal vaginal delivery somewhat guarantees that you can start exercising sooner than later. According to the American College of Obstetricians and Gynaecologists, you can begin exercises within a few days of normal vaginal delivery whenever you feel ready to commence.
Taking a 10 to 20- minute daily stroll around the neighbourhood, with or without your baby is a great start for many new mums to build up stamina for more tedious exercises. Getting about 3 hours of exercise a week, say around five weeks postpartum is a good goal, just like for all adults.
For mums who had complications or delivered their babies by C-section, there's a need to take it slowly so that the stitches can heal properly. It is in your best interest to Consult a Doctor, midwife or physical therapist to give you some personalized advice.
What are the best exercises to do?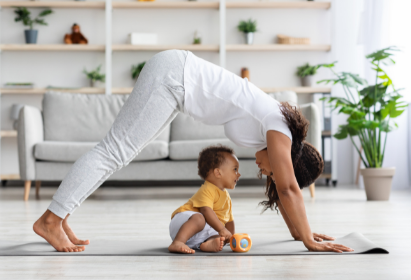 After nine months of being stretched out, your abdominal muscles need to first learn how to function appropriately again. Hence shedding off the baby weight, staying fit or getting back to the rigorous workout routine you practiced before you were pregnant, requires retraining the pelvic floor — which involves engaging in core exercises. Kegelexerciseis the best for training your core; forget crunches and situps. Contract and relax the muscles of your pelvic floor as often as you can. Simply squeeze your core as if you're trying to stop the flow of urine, making an effort of drawing your pelvic floor up. Hold this position for three to five seconds. Then relax. Regaining core function is essential bedrock for maintaining good bladder control when you're running, coughing or sneezing.
After getting the hang of kegels, try adding belly breathing exercises. Inhale deeply, while letting your belly expand and relax your core. Then, exhale, drawing your abdomen in and your pelvic floor up.
Stomach vacuum exercises also help lose belly fat quicker. The best way to position yourself for this exercise is by standing up straight with your feet shoulder-width apart then slowly breathing in and out your nostrils. Suck in your bellybutton as far in as possible, with your ribcage raised and keep at this position for about 20 minutes before exhaling slowing through your nostrils. You can repeat this exercise several times daily, in the comfort of your home. This exercise also helps straighten your spine and reduce backache. Perfect, isn't it?
On the matter of stretch marks, applying retinoid creams extracted from vitamin A can minimize the appearance of new stretch marks (not less than a few weeks old) and fade off older ones.
Balancing exercise with caring for an infant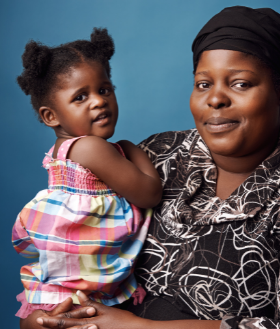 Finding time to exercise especially when there's an infant with constant demands is quite a challenge. Nonetheless here are some ways to swing it:
1. Set a realistic workout routine. This could be a 20minutes plan divided into mornings and evenings each day. Take it slowly, one day at a time in good paces.
No matter how anxious you are to lose your baby fat, health professionals caution against any activity that put major stress on your joints for at least six to eight weeks postpartum. This is because the hormone relaxin (relaxin makes joints loose and more prone to injury) that was produced during pregnancy would take up to six weeks after delivery before being completely flushed out of your system.
2. Eat lots of fruits while incorporating dietary supplements into your diet. Remember to also drink enough water throughout the day.
3. The elastic walls of the vagina stretch quite a bit during childbirth but spring back into place thereafter. Sex is also considered a great form of exercise, so you can resume sexual intercourse when you feel ready and have gotten the go-ahead from your doctor. But while at it, keep in mind your birth control plans.
4. Try a mum and baby class. Mommy-and-me fitness classes offer benefits beyond the workout. You get to be active while spending time with your baby. You'll meet other new parents who'll be excited sharing their experiences. Good communication keeps you active as well as helps combat any form of postpartum depression.
5. Ensure you give yourself the support you need by asking for help whenever you're feeling overwhelmed. Letting your partner or someone else support you is healthy for you.
In conclusion…
Motherhood changes you inside and out; from the shape of your breasts, hip width, and even to your cloth and shoe sizes. These changes are as a result of the work your body has done. So as you settle comfortably into your new role as a new mother, remember to practice self-love; embrace your emotions and engage in healthy activities that can keep you fired up all day round.