As a Nigerian woman living with PCOS, one of the best things you can do for yourself is knowing how to combine Nigerian foods for PCOS diet plan.
Polycystic Ovarian Syndrome (PCOS) is a hormonal imbalance that occurs in women of child bearing age. You may not have periods very often if you have PCOS, or you could have periods that last for too many days.
Beyond irregular menstruation, PCOS can cause unexplainable weight gain, insulin resistance, and excess hair growth. Polycystic Ovarian Syndrome is a major cause of infertility and menstrual disorders in women.
Eating a healthy and balanced diet can help manage PCOS symptoms and improve overall health. This is why in this article; we put together a list of Nigerian foods for PCOS diet plan.
Common symptoms of PCOS experienced by Nigerian women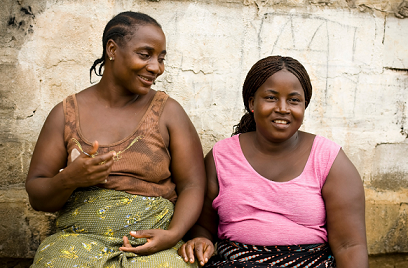 Majority of the symptoms of PCOS usually results from either excessive male hormone (androgens) production or chronic anovulation. They include the following:
· Premature puberty
· Obesity
· Acne
· Hirsutism (Excessive hair on the upper lip, chin, neck, chest, lower abdomen and upper thigh).
· Irregular or absent menstruation
· Male pattern alopecia (baldness)
· Type 2 diabetes mellitus
·         Hypertension
· Heart disorder
· Infertility
· Endometrial cancer
· Intrauterine growth retardation.
Can PCOS be cured?
There is no known cure for Polycystic Ovarian Syndrome (PCOS) but the symptoms can be managed through some hormone medications, lifestyle changes and so on. Chronic cases of PCOS can last for years or even a lifetime.
Treatment options for PCOS
There are various modes of treatment available for people with PCOS. Each treatment option is tailored to the symptoms and realities of the particular person. One of the primary factors that determine the mode of treatment is the person's desire to conceive.
If conception is in the person's plan, the physician can prescribe ovulation boosting medications to enhance fertility.
On the other hand, if the person is not yet ready to conceive, the doctor may consider placing her on birth control pills to help make periods become regular.
Other medications used in the treatment of PCOS include Statins to lower the liver's production of cholesterol, and the anti-diabetic drug, Metformin, for blood sugar control to prevent diabetes.
Apart from the use of medications and surgery, other methods have found a place in the treatment/management of PCOS and they include:
· Diet change
· Physical exercise
Diet change and exercise go together as they help with the reduction of body weight and hence, improve symptoms like diabetes mellitus and hypertension associated with PCOS.
Nigerian foods for PCOS diet plan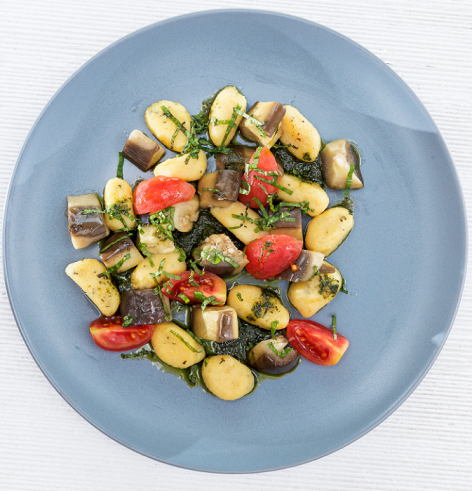 A typical diet plan for PCOS patients is very similar to those taken by diabetics and hypertensive patients.
Nigerian foods for PCOS diet plan can be grouped into three classes:
1. Low Glycaemic Index (GI) diet:
Digestion of foods with low glycaemic index is slow, thereby reducing the release of glucose into the blood stream, and helping to manage insulin resistance.
Examples of these foods are: brown rice, beans, soya beans, vegetables, walnuts, almonds and seeds.
2. Anti-inflammatory diet:
As the name implies, these are foods that fight inflammation. An anti-inflammatory diet will include lots of fruits, vegetables and foods rich in Omega 3 fatty acids such as fish, turmeric, garlic and ginger.
Anti-inflammatory fruits that you can easily find in Nigeria include oranges, pineapple, avocados, coconuts, tomatoes, beetroots, cherries, etc. Olive oil and poultry products are also anti-inflammatory.
3. High Fibre diet:
Fibre is very beneficial for weight control because it is slower to be absorbed or digested in the body. Most foods that are high in fibre are also filling, so they make one feel full. This includes oatmeals, yams, popcorn, potatoes with the skin, whole grains (like whole wheat bread), dried fruits, and so on.
Remember to always consult with a healthcare provider or registered dietitian before making significant changes to your diet. They can help create a personalized plan that meets your individual needs and goals.
The table below is a 7-day PCOS diet plan pdf that will help you manage symptoms better: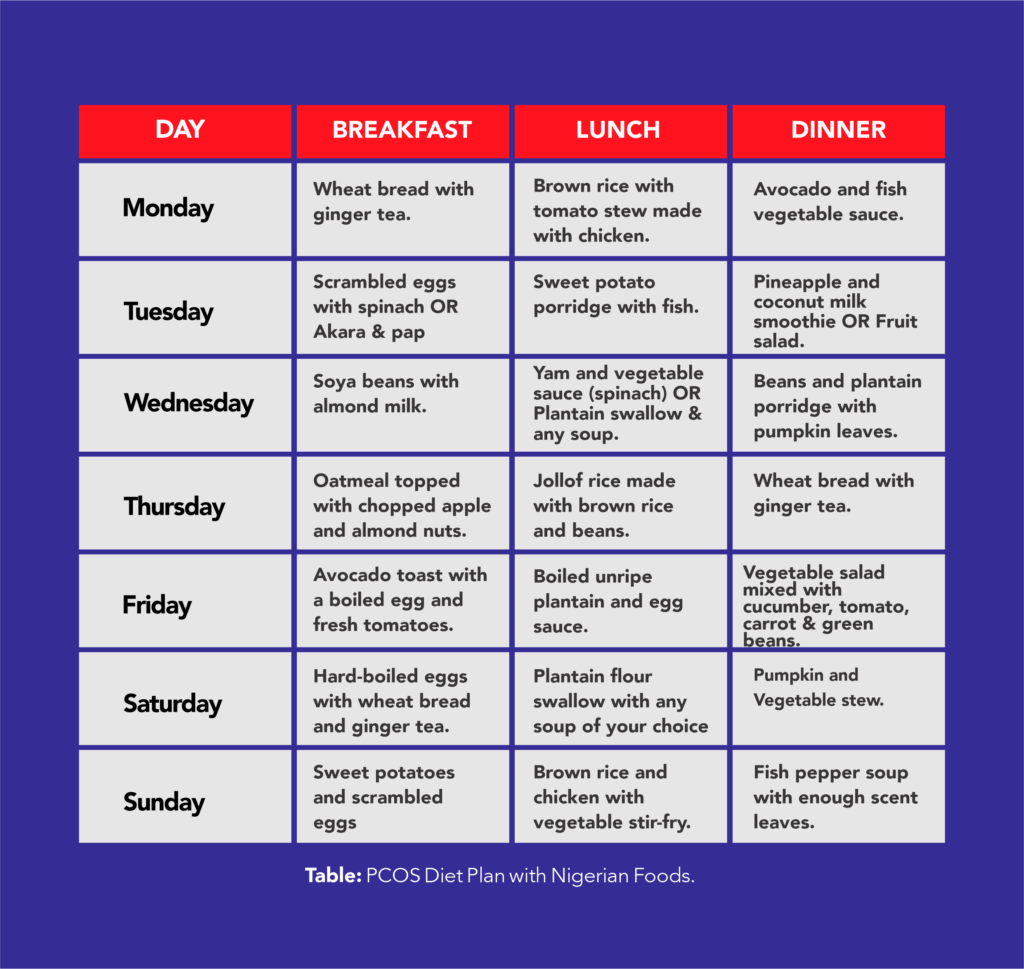 The table above can also be used as a PCOS diet plan to lose weight or PCOS diet plan to get pregnant pdf. You can also remove the 'lunch" category and you will have an intermittent fasting diet plan for PCOS.
READ ALSO:
Natural foods are also preferred compared to processed foods. With the rich variety of local Nigerian dishes, the PCOS diet plan in Nigeria can be made with the foods above in various combinations of choice.
Foods to avoid in a PCOS diet plan
· Fried foods (fries and chips)
· Surgery beverages like carbonated drinks
· Processed meat
· Excess red meat
· Refined carbohydrates e.g. white bread, pastries, etc.
· Solid fats including butter and margarine
When to See the Doctor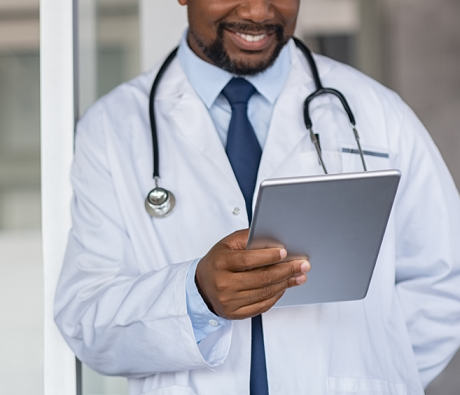 Eating a healthy and balanced diet is encouraged to keep the body healthy and in shape. When symptoms of PCOS are noticed, it is important to see a doctor on time to carry out necessary investigations and begin a treatment model suitable for you.
The PCOS diet plan would be commenced early enough to help in the relief of symptoms and other modes of treatment may be added to this.
PCOS Compliant Smoothie Recipes
If y
1. Apple–Banana Smoothies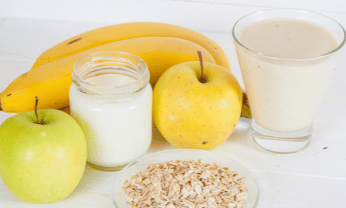 Ingredients:
1 piece of apple
1 piece of banana
1/2 glass of orange juice
Unsweetened yoghurt (optional)
Preparation:
Cut the apple and banana into bits.
Add the 1/2 glass of orange juice and unsweetened yoghurt
Blend everything together.
2. Apple-Avocado Smoothies
Ingredients
1 piece of Avocado
2 pieces of Apples
2 fingers of fresh ginger
1 twig of spinach
Preparation:
Cut the apples
Peel the avocado
Cut the spinach into a rough dice.
Blend everything together till you get a smooth paste.
You can add little honey to taste.
* The spinach and ginger makes for easy digestion. Avocado gives the smoothie a rich and creamy taste while the apples are good for detoxification.
3. Vegetable Smoothie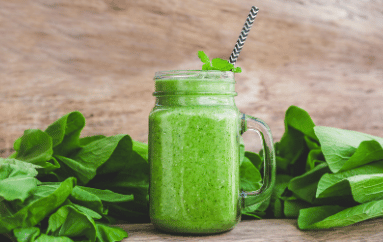 Ingredients
A handful of broccolis
A twig of spinach
1 piece of apple
1 piece of lemon
Unsweetened yoghurt
Preparation:
Boil the broccoli for 2 minutes and bring down to cool.
Extract lemon juice by squeezing the lemon.
Dice the apple and spinach.
Blend everything together till smooth.
Add honey to taste.
Conclusion
With the richness of the Nigerian local cuisine, do not look at the PCOS diet plan in Nigeria as a death sentence denying you of things you may have loved to eat. But see it as an opportunity for the improvement of your health and if you desire to conceive, view it as the necessary step to be taken to achieve fertility.
If you have more questions or need to discuss your PCOS symptoms further, Talk to an Expert Doctor online on KompleteCare. It's more convenient, safer and faster. Your privacy and confidentiality is also guaranteed.