Searching for Nigerian detox smoothie recipes to shed belly fat? This article has all the answers for you.
Having a flatter tummy can be said to be everybody's wish especially women, including those who may not necessarily be interested in losing weight completely.
It's not strange to have conversations with females (say at the gym) who are particularly interested in ways they can shed belly fat without having to lose weight on other parts of their body.
While losing weight is never a walk in the park, shedding belly fat is twice the struggle. As a matter of fact, research reveals that stomach or belly fat is harder to shift thereby making it a bit difficult to lose weight around the abdomens.
The good news is that our detox smoothie recipes here can make the weight loss journey more exciting as they are easier to make, delicious to take and handier to keep you feeling full for hours.
All the same, whether you are looking to lose just belly fat or lose weight totally, our list of detox smoothie recipes and recommendations will sure do the trick for you to shed belly fat easily.
In case you belong to the group that is only interested in how they can only shed belly fat without dropping a little weight from other parts of your body, kindly note that it may not be totally possible to lose fat in just one part of your body.
But not to worry, the detox smoothie recipes contained in this article try as much as they can to target the belly area more.
As usual, the ingredients for each smoothie here are familiar fresh fruits, vegetables and leaves that are easily found in Nigerian markets.
Once you have access to these and a functioning blender, you are good to go. Remember that the recipes contained here are detox smoothies which means that they help rid the body of toxic or unhealthy substances and promote weight loss.
So, here you go with the most effective belly-fat-burning detox smoothies:
1) Leafy Green Vegetable Smoothies: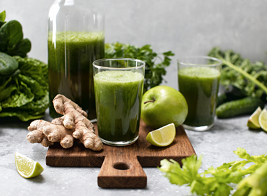 As you already expected, what is a detox plan without leafy greens? Leafy green vegetables are very good for healthy dieting and weight loss as they contain a lot of vitamins, minerals and fibre while having very low amounts of calories. They are very good in flushing and cleansing the body as well.
Ingredients:
2 cups of your preferred leafy green vegetables (African spinach, kale, pumpkin leaves, bitter leaves, scent leaves, etc).
1 banana
Half cup of skimmed milk or water
Preparation:
Wash and chop the leaves in bits.
Slice the banana and pour in everything into the blender. Blend till smooth.
2) Beetroot Detox Smoothie: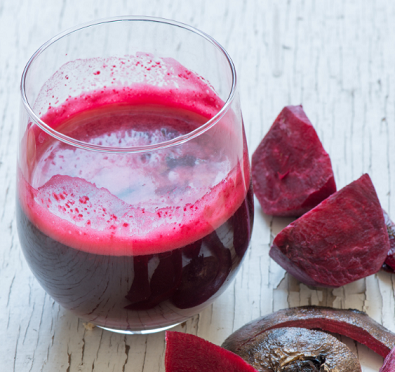 Beets are rich in iron, copper, magnesium, potassium, vitamin C, fiber, and dietary nitrates. Since the goal is to detox, beetroots prevent fatty acids from building up and stimulates the liver cells, which can contribute to detoxifying them.
Ingredients:
2 Raw Beetroots
1 Ginger
1 fresh lemon
Half cup of water
Preparation:
Grate the raw beetroots and ginger to the smoothest texture.
You can steam them (optional) for 30 seconds.
Squeeze the lemon juice into the mixture.
Place all ingredients in your blender and blend till smooth.
3) Cucumber-Pineapple Smoothie
Cucumbers and pineapples are filled with healthy digestive enzymes which flush out toxins and cleanse the gut. Hence, this detox smoothie recipes can help you to detoxify your body and lose belly fat very effectively.
Ingredients:
1 fresh cucumber
1 cup of chopped pineapple
1 fresh lemon
1 Ginger
Half glass of water
Preparation:
Slice the cucumber into bits just like the pineapple.
Grate the ginger.
Squeeze the lemon juice into the mix.
Place them into the blender and blend until smooth.
4) Apple-Celery Smoothie:
Green apples are packed with healthy flavonoids and fibres that help to burn belly fat. They are particularly rich in pectin fibre that breaks down slowly thereby promoting satiety.
Celery is filled with antioxidants and helps to reduce inflammation. Combining these two super-foods helps with the best detox for belly fat.
Ingredients:
1 green apple
A stall of celery
1 Ginger
Lemon juice
Half cup of water
Preparation:
Dice the apple and celery to tiny bites.
Grate the ginger.
Place all ingredients into your blender and blend till smooth.
5) Mango-lime detox smoothie
Mangoes are known for their abundance of vitamins, antioxidants, fibre and minerals while Lime juice can make you feel full, thereby reducing appetite. As such, this mango smoothie made with lime juice targets belly fat in no small measure. It is refreshing, delicious and full of vitamins.
Ingredients:
2 cups of ripe mango chunks
2 fresh limes
1 glass of water
1 ginger
Preparation:
Grate ginger to smooth texture.
Squeeze out juice from limes.
Combine all ingredients in a blender; blend until smooth.
For faster results, have these delicious detox smoothie recipes three to four times in a week. It also helps if you can replace one of your meals (either lunch or dinner) with these detox smoothie recipes.
If you are consistent, you may begin to see noticeable changes in your abdominal area after two weeks. You can also add Easy and Effective Exercises that Burn Belly Fat Quickly