It is amazing how we often times walk right past the very thing we are looking for without realizing it. The local markets, malls and in some cases our gardens contain two herbs that are of greater health benefits than we can imagine.
Garlic and Ginger are two herbs that are grown in many parts of the world. Garlic is a specie in the Onion genus while Ginger is a root plant that belongs to the Zingiberaceae family.
Now, About Garlic…
Garlic originated from Central Asia and Northeastern Iran and has spread across the world. It is used in seasoning meals and also as an ingredient in some traditional medicine recipe. A clove of Garlic contains;
58.58 grams of water
1.672 grams of Manganese
0.11 grams of Riboflavin
0.06 grams of Fiber
A good amount of calcium, vitamin B6 and iron (Agricultural Research Services, 2019)
Health Benefits of Garlic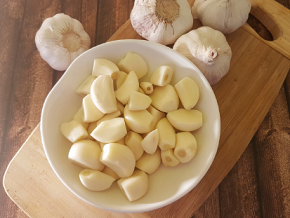 Garlic is proven to reduce the blood pressure in patients with high blood pressure, hypertension and cardiovascular diseases.
Garlic contains Allicin, a substance that reduces inflammation and acts as a detoxicant. Allicin is however a volatile substance which is only present for a short time when the Garlic is crushed or chopped.
Garlic helps to reduce Low Density Lipoprotein (LDL) which is responsible for Cholesterol.
Garlic contains allyl sulfide, an antioxidant that combats age related changes in gut bacteria. This helps in treating Dementia and Alzheimer's disease
The Allicin component in Garlic also helps to combat the Common Cold and Flu.
What about Ginger?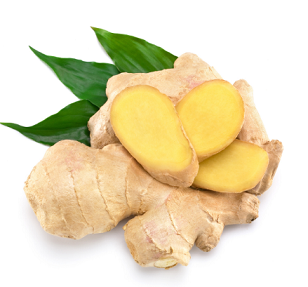 Ginger is a perennial plant whose roots (rhizomes) are herbaceous. The Nutritional value of Ginger is as follows;
80.9% moisture
12.3% carbohydrates
2.4% fiber
2.3% protein
1.2% minerals
0.9% fats (Singh, 2015)
Health Benefits of Ginger
The health benefits of Ginger are similar to that of Garlic.
Ginger has antioxidant qualities that help to combat liver diseases by reducing serum triglyceride concentration.
Ginger also exhibits anti-cancer qualities. The extract from this herbaceous plant contain chemo-preventive and antineoplastic properties in gastric cancer.
Ginger is an anti-inflammatory agent that helps to treat joint problems.
It is also effective in treating Gastrointestinal complications such as morning sickness, colic, upset stomach, gas, bloating, heartburn, flatulence, diarrhea, loss of appetite, and dyspepsia (discomfort after eating).
Ginger contains Zintoma, an extract that helps in relieving pains such as arthritis, muscle soreness, chest pain, low back pain, stomach pain, and menstrual pain.
Garlic and Ginger are natural drugs that are not so hard to access. What more, they can be used as spices and seasonings in our food.
However, as good as these herbs are, it is important to be sure that you are not prone to any of the side effects they might contain. Some side effects of ginger include, Diarrhea, Heartburn and mouth or throat infection. While that of garlic includes swelling of the face, tongue or lips.
If you are not sure about how you might react to the use of these wonderful plants, do well to Speak to a Doctor first before exploring.
Herbs are all around us and closer to boosting our health than we often think. A clove of garlic or a root of ginger might just be what you need to keep the doctor away.
References
Agricultural Research Services. (2019, 1 4). Food Central Search Result. Retrieved from US Department of Agriculture: https://fdc.nal.usda.gov/fdc-app.html#/food-details/169230/nutrients
Rahimlou, M. (20116, January 16). Ginger Supplementation in Nonalcoholic Fatty Liver Disease: A Randomized, Double-Blind, Placebo-Controlled Pilot Study. Retrieved from US National Library of Medicine.
Singh, D. (. (2015). Nutritional benefits and pharmacological effects of ginger: an overview . Indian Journal of Basic and Applied Medical Research, 377.
Medical Disclaimer: KompleteCare™ aims to improve the quality of life for everyone with fact-based content about the nature of diseases, preventive care, behavioral health conditions, treatment options and their related outcomes. We publish material that is researched, cited, edited and reviewed by licensed medical professionals. The information we provide is not intended to be a substitute for professional medical advice, diagnosis or treatment. It should not be used in place of the advice of your physician or other qualified healthcare provider.