The beginning of achieving resounding results.
"The trouble with not having a goal is that

you can spend your life running up and

down the field and never score."

~ Bill Copeland
It is a little bit cliché to talk about how important setting goals are if one must achieve any significant success in his/her life endeavors. But then, that's the thing about clichés. They are clichés for a reason – they are almost always true. And even if they have been used overtime, it still doesn't invalidate the truism in them.
We are in the beginning of a new year, 2020. The year that ends a decade, bringing with it another opportunity to dream again, to start afresh and look out for new opportunities to make things happen, so yes… we shall still talk about setting personal goals because they are a sure fire way of achieving resounding results. Most people do not set defined goals for themselves. So, it's a little wonder why there aren't a lot of highfliers in life.
In simple terms, a goal is basically the desired result to which one puts an effort to achieve. Personal goals cannot be crammed into one neat definition because its meaning is as different as the individuals who set it. It is essentially action steps you take towards the things you want to achieve and the efforts you put to achieving them.
Goal setting is what gives you purpose and guidance in life as well as the first step into achieving one's dreams. It is the road map to your desired results, and ultimately what differentiates the go-getters and the daydreamers. Yes, because a dream without a goal is mere fantasy.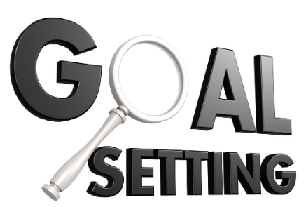 How then do you set goals to achieve remarkable results in the next 12 months?
Be Clear About What You Want. Every great person who has ever achieved notable feats knew what they wanted from the word go. It is the knowledge of what one wants that fuels the passion and motivation behind pursuing the goal. It seems logical to assume that most people know what they want. But, a lot of people do not know in clear terms what they want. Hence, it is crucial that before you set goals, you should sincerely answer the What-Do-I-Really-Want question as the answer will go a long way in determining the kind of goals you set for yourself. Truth is, not everybody is self-aware from the outset, but it pays to have a mental picture of who you want to be and what you want to accomplish in each period. Most notable things do not happen inadvertently, they are rather a resultant effect of knowing what one wants from the very beginning. Write it down and run with it.
The next step is to Simplify the Process.
I consider this one of the most effective ways to achieving anything. Sounds too simple…but it's essential. And in the spirit of simplifying things, you should know that turning your dreams to reality is not as hard as you think. In plain language, all one needs to do is to set short term 'objectives' on a daily/weekly/monthly basis. And because these objectives are smaller in scope, it makes accomplishing them more feasible. For instance, if the goal is to make a million naira in the new year, you could simplify the process by setting objectives on how to make approximately 83,000 naira monthly, 19,000 weekly and 3,000 daily. A good way to do this is to ensure these objectives are observational, measurable and have a time horizon. When you tailor your goals into objectives, it becomes easier to make necessary adjustments here and there.
Write Down Your Goals. Nothing makes a goal more clearly defined as having them written down. It is not enough to have the ideas in your head, writing them down and seeing them on paper influences your mind in no small measure. You may have noticed the emphasis on writing a thing down. It is intentional. There's something about writing goals down. When you put pen to paper, it's as if you're subconsciously giving yourself a command. Your motivation and self-accountability increases which then translates to positive outcomes.
Another workable way to ensure your goals are achievable is to follow the popular SMART goal setting formula.
It may be cliché but then, it's proven time and again that it results to the desired outcomes as it brings trackability into your set goals.
S –specific
M –measurable
A –attainable
R –relevant
T –timely
Read more about S.M.A.R.T Goal Setting
One last thing to note. Your personal goals need to be Set Aright. Remember it is your road map to your desired results so getting it wrong can put you in a situation you don't want.
Studies show that, if we set goals, we increase our chances of success by 42%
Who wouldn't want that?
Make this year count by setting personal goals TODAY!
Here's to an achieving year!