Medically reviewed by Dr. Stephanie Ofoegbu.
Looking for smoothies for weight loss in Nigeria to crunch those stubborn fats? You are not alone. Anyone who has ever tried losing weight can tell for sure that it is easier to gain weight than to shed it.
It gets even more challenging for West Africans like average Nigerians as most of our often-consumed meals are staple foods that are rich in starch like rice, cassava flakes (garri), bread, yam, fufu, white flour and so on.
For most Nigerians, losing weight especially belly fat is synonymous with eating boring or outright "hunger strikes". This unhealthy and erroneous perception of weight loss is one of the leading reasons most weightloss enthusiasts swiftly move from being weight watchers to ulcer patients. Though watching one's weight is not a walk in the park, it should not be a tedious experience too.
Agreed; weight loss takes determination and deliberate effort like portion control, skipping meals and consistent exercises.
In this article, you will learn different easy weight loss smoothies to make at home as well as how they can be blended to achieve your desired results. These recipes have been medically reviewed by a certified nutritionist and have worked for many people, so get ready to watch your weight go down as you enjoy these healthy smoothies.
The better news is that these ingredients are not hard to find in Nigerian markets. All you need is a functioning blender and you are good to go.
Smoothies for Weight Loss in Nigeria:
1. Apple–Banana Smoothies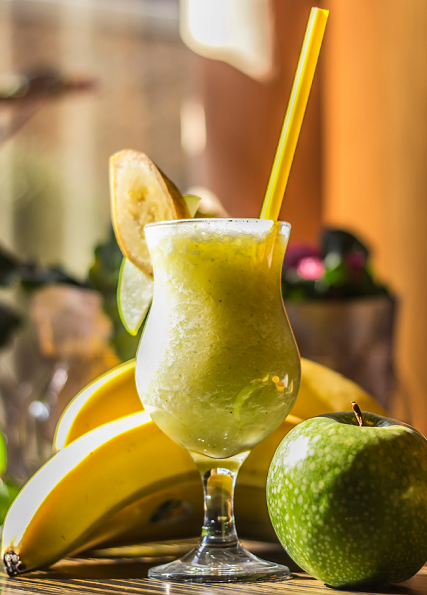 Ingredients:
1 piece of apple
1 piece of banana
1/2 glass of orange juice
Unsweetened yoghurt (optional)
Preparation:
Cut the apple and banana into bits.
Add the 1/2 glass of orange juice and unsweetened yoghurt
Blend everything together.
2. Apple-Avocado Smoothies
Ingredients
1 piece of Avocado
2 pieces of Apples
2 fingers of fresh ginger
1 twig of spinach
Preparation:
Cut the apples
Peel the avocado
Cut the spinach into a rough dice.
Blend everything together till you get a smooth paste.
You can add little honey to taste.
* The spinach and ginger makes for easy digestion. Avocado gives the smoothie a rich and creamy taste while the apples are good for detoxification.
READ ALSO:
Detox Smoothies Strictly for Flat Tummy
Starting a New Exercise Regimen
10 Best Exercises to Perform at Home Without Equipment
3. Vegetable Smoothie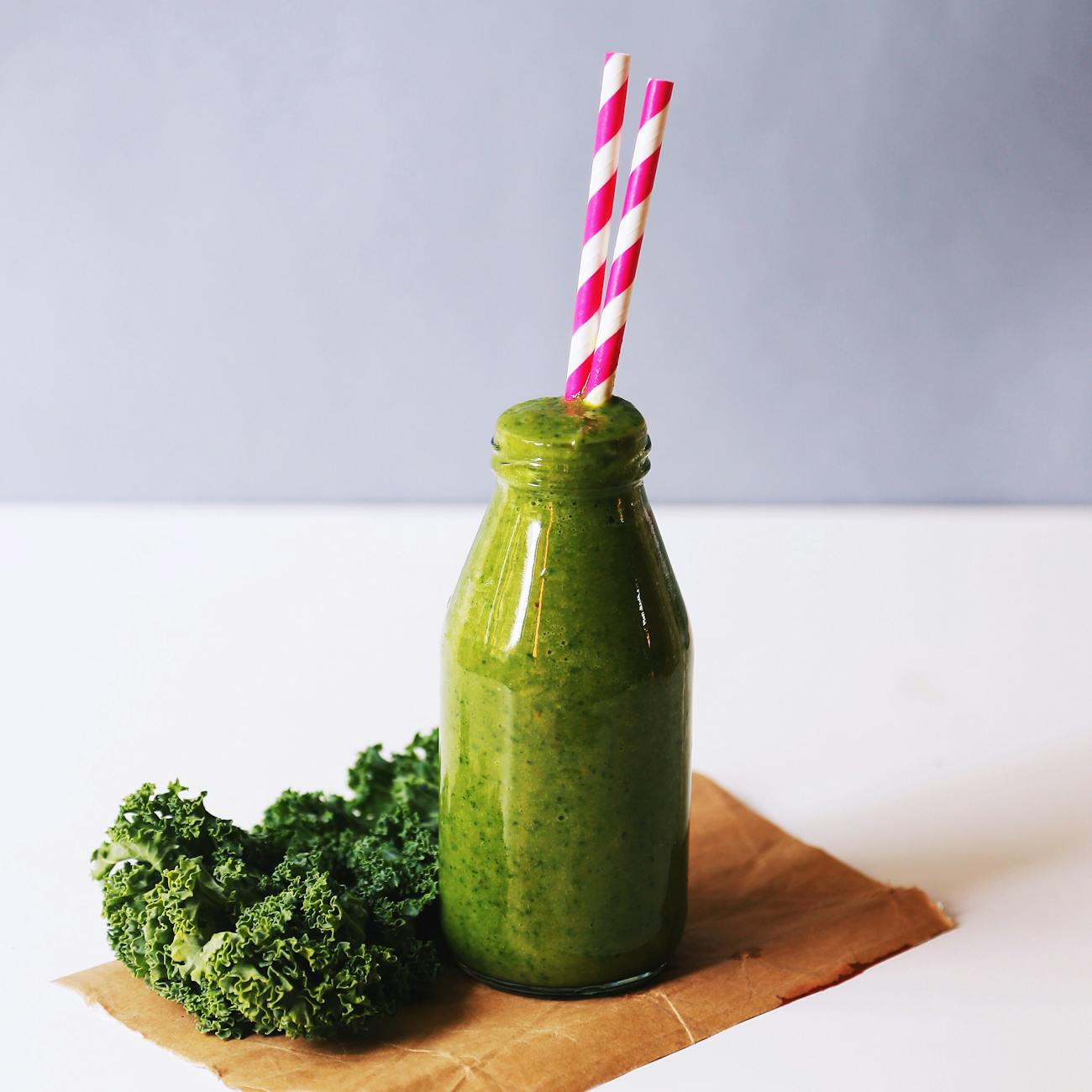 Ingredients
A handful of broccolis
A twig of spinach
1 piece of apple
1 piece of lemon
Unsweetened yoghurt
Preparation:
Boil the broccoli for 2 minutes and bring down to cool.
Extract lemon juice by squeezing the lemon.
Dice the apple and spinach.
Blend everything together till smooth.
Add honey to taste.
4. Cucumber-Water Melon Smoothie
Ingredients:
1/4 of a ball of watermelon
1 big cucumber
Low fat yoghurt
Preparation:
Deseed the watermelon and slice into bits.
Peel the cucumber and slice.
Add the yoghurt and blend together.
* Watermelon and cucumber contain soluble fiber, very low calories and help to keep you hydrated, thus making them great for weight loss.
5. Orange Smoothie
Ingredients:
1 piece of orange
1 teaspoon of honey
Unsweetened yoghurt
Preparation:
Peel and deseed the orange.
Add other ingredients together and blend until smooth.
Smoothies for Flat Tummy in Nigeria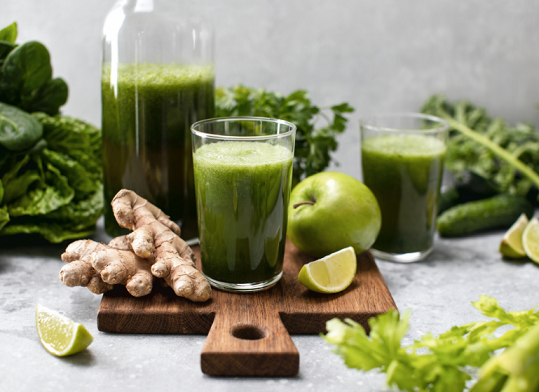 As you already expected, what is a detox plan without leafy greens? Leafy green vegetables are very good for healthy dieting and weight loss as they contain a lot of vitamins, minerals and fibre while having very low amounts of calories. They are very good in flushing and cleansing the body as well.
Pumpkin leaves (ugu) is the most common ingredient for this recipe. So, if you reside in Nigeria, you shouldn't joke with ugu smoothie for weight loss.
Ingredients:
2 cups of your preferred leafy green vegetables (African spinach, kale, pumpkin leaves, bitter leaves, scent leaves, etc).
1 banana
Half cup of skimmed milk or water
Preparation:
Wash and chop the leaves in bits.
Slice the banana and pour in everything into the blender. Blend till smooth. Your green smoothie diet is ready to be served.
2) Beetroot Detox Smoothies for weight loss: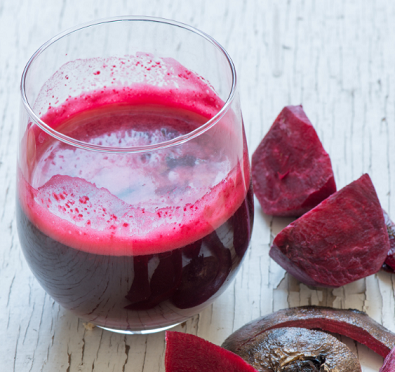 This is one of the super effective smoothies to lose belly fat fast. Beets are rich in iron, copper, magnesium, potassium, vitamin C, fiber, and dietary nitrates.  Since the goal is to detox, beetroots prevent fatty acids from building up and stimulates the liver cells, which can contribute to detoxifying them.
Ingredients:
2 Raw Beetroots
1 Ginger
1 fresh lemon
Half cup of water
Preparation:
Grate the raw beetroots and ginger to the smoothest texture.
You can steam them (optional) for 30 seconds.
Squeeze the lemon juice into the mixture.
Place all ingredients in your blender and blend till smooth.
3) Cucumber-Pineapple Smoothie: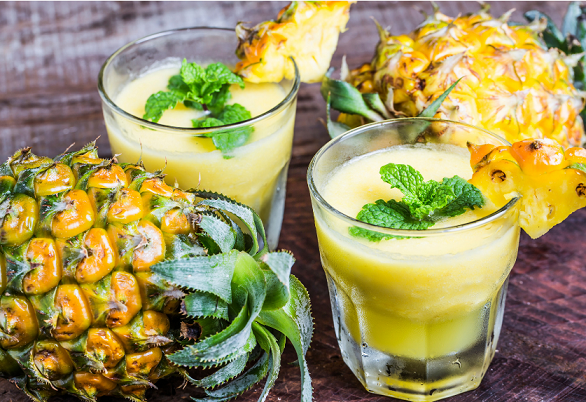 Cucumbers and pineapples are filled with healthy digestive enzymes which flush out toxins and cleanse the gut. Hence, this detox smoothie can help you to detoxify your body and lose belly fat very effectively.
Ingredients:
1 fresh cucumber
1 cup of chopped pineapple
1 fresh lemon
1 Ginger
Half glass of water
Preparation:
Slice the cucumber into bits just like the pineapple.
Grate the ginger.
Squeeze the lemon juice into the mix.
Place them into the blender and blend until smooth.
4) Apple-Celery Detox Smoothies: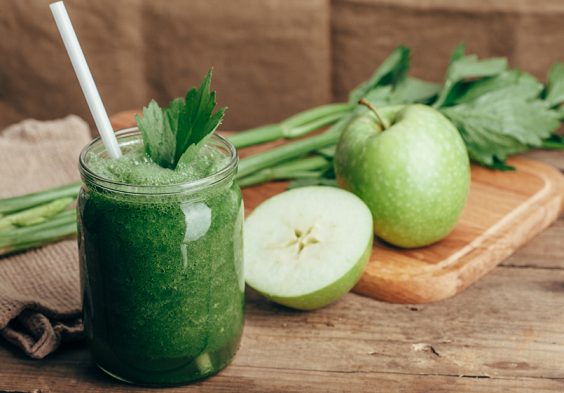 Green apples are packed with healthy flavonoids and fibres that help to burn belly fat. They are particularly rich in pectin fibre that breaks down slowly thereby promoting satiety. Celery is filled with antioxidants and helps to reduce inflammation. Combining these two super-foods helps with the best detox for belly fat.
Ingredients:
1 green apple
A stall of celery
1 Ginger
Lemon juice
Half cup of water
Preparation:
Dice the apple and celery to tiny bites.
Grate the ginger.
Place all ingredients into your blender and blend till smooth.
5) Mango-lime detox smoothie: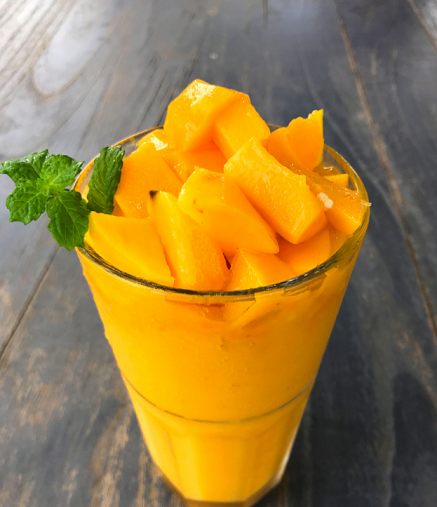 Mangoes are known for their abundance of vitamins, antioxidants, fibre and minerals while Lime juice can make you feel full, thereby reducing appetite. As such, this mango smoothie made with lime juice targets belly fat in no small measure. It is refreshing, delicious and full of vitamins.
Ingredients:
2 cups of ripe mango chunks
2 fresh limes
1 glass of water
1 ginger
Preparation:
Grate ginger to smooth texture.
Squeeze out juice from limes.
Combine all ingredients in a blender; blend until smooth.
Conclusion
What many people do not know is that weight loss can equally be fun and enthralling. Though less talked about, taking healthy smoothies can greatly aid one's weight loss journey. Not only are they easy and quick to make, they are a great substitute for soft drinks as they contain beneficial vitamins, easy to digest and contain less calories.
Well-mixed smoothies can even replace one's breakfast, lunch or dinner so long that they contain the right nutrients. The trick basically lies in knowing what fruits to combine to help get rid of fat from the body.
If you are making use of a regular blender, endeavour to put easier-to-blend ingredients first before others.
You can also always replace unsweetened yoghurt with skimmed milk.
Wash the blender immediately after use to avoid the fruit particles sticking in it.
It is not enough to be enthusiastic about keeping your weight in check. Ensure that your current weight is indeed healthy for you. Use the KompleteCare Body Mass Index (BMI) Checker for FREE!
All the recipes shared in this article are quick and easy to make. So, try them out and feel free to share your smoothie recipes or feedback in the comment section.