Even when her feet felt so numb and her knees threatened to buckle under her, there's no way she'll kick off her high heel and reduce her chances at being employed.
Shola struggled to maintain her balance on the tiled floors of the conference room as she carefully paced back and forth in her 4 inches stiletto high heels while delivering her opening speech. Had she known that walking would be this much of a struggle between her feet and these slippery tiles, she would have stuck to her flat shoes.
Whoever established that stylish shoes must be painful falls under the myth that 'beauty is pain.' Shola would choose comfort a hundred times over this painful elegance that she was visibly trying to portray.
Ruling out high heels from her entire shoe collection, she made a mental note to have her feet massaged after this seminar. She only wished she doesn't wobble in them and gracelessly fall off the stage as that would be beyond embarrassing.
It is universally accepted by women that a party dress is not complete without a classy pair of high heel shoes. This is because they stand taller, appear slimmer and strike a sexier posture whenever they put on high heels.
However, women cannot deny that high heel shoes are much less comfortable than sneakers or flats—and they're always relieved to kick them off after a long day.
Data from the American Academy of Orthopaedic Surgeons (AAOS) in the United States reveals that one 1 out of 6 women have chronic pain in the foot or feet. It also reported that 9 out of 10 of women's foot issues are attributed to tight shoes.
Another research conducted by Stephen Ogedengbe, MD, a researcher at the University of Benin Teaching Hospital, Nigeria equally agrees that improper footwear accounts for a great number of foot ulcers amongst diabetic females.
Wearing high heel shoes for long periods of time comes with stress and pressure on several parts of your body. This is because the body tries to adjust and shift its overall weight to compensate for the heel of the high heels shoes. This extra stress can adversely affect your knees, hips, lower back, Achilles tendon and calf muscles.
The increased pressure caused by habitual wearing of heels 2 inches or higher makes the Achilles tendon and calf muscles take different shapes.
The tendon may shorten, and the muscles can stiffen and reshape thereby causing pain in the body's lower extremities. It is an established fact that high heel shoes negatively impact your lower limb if worn regularly.
Some Health Risks of High Heel Shoes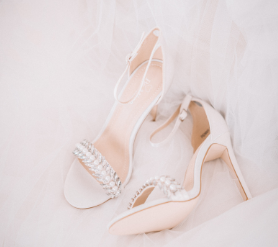 There are significant health risks associated with habitual wearing of high heel shoes and some of these conditions include:
Hammertoes: This happens when the middle joints of the toes bend and point downwards. Usually occurs when the toes are cramped up in tight shoes (especially pointy high heel shoes). Continual use causes permanent deformity and makes the feet look crooked.
Bunions: This is a painful bump at the base of the big toe that is more pronounced when the big toe deviates and points to the direction of the other toes. In severe conditions, walking barefooted may become really painful. Corrective surgery is the ultimate remedy.
Bad posture and gait problems: In an attempt to support your lower limb with your upper body, you tend to lean forward and overarch your back more than you normally would. The higher the heel of your shoes, the greater the arch of your back. Now imagine how stressed and funny you'll walk!
Ankle sprains: High heels are mostly safe to wear if you are walking on even surfaces. Potholes, bumps, uneven staircases, and cobblestones can cause you to wobble and sprain your ankle. An awkward landing like this can also lead to broken ankles, bruised elbows, dislocated kneecap and in worst cases, a concussion.
Constriction of blood vessels: High heel shoes make the leg appear longer and thinner by squeezing the feet into an uncomfortable position. This stress can result in a constricted blood flow to your feet and in extreme cases, ruptures small blood vessels.
Note that high heels by themselves do not translate to all the above mentioned problems. But based on anatomy and genetics, some women are more predisposed than others. Excessive and early age of usage of high heels, also contribute to these issues.
How to Avoid Injuries from High Heel Shoes.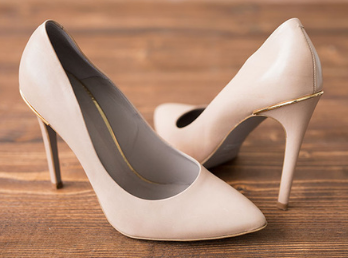 Are you experiencing the consequences of constantly wearing high heels? Here are a few suggestions that can help ameliorate the painful effects of high heel shoes:
Review your shoe choice – Instead of high heel shoes that increase your risk of feet injury, go for flat shoes that provide more support and cushion. You can also choose a shorter and more balanced heel. For example, 2 inches heels or less as they put less pressure on your joints.
Engage in more joint and calf exercises– Stretch your calves before and after wearing heels. Extension of the feet, flexion and extension of the ankle, squats and even swimming are good forms of lower limb exercises.
Reduce the rate at which you wear heels. Add more flats and wedges to your shoe rack. Go easier on your joints.
Go for the best fit— Avoid oversized shoes that tend to push your toes forward when you walk. You should not pick tight shoes that would leave blisters on your toes or the back of your feet. Rounded or open toes offer more comfort than pointed toe shoes.
Avoid buying online If you can— Buying high heel shoes online doesn't give you the chance of trying out the heels to assess how comfortable they are or if you can walk in them. Choose comfort over trendy fashion because your confidence level becomes heightened with every comfortable strut you take.
Conclusion
Beauty must not always be pain. You can be elegant without having to stress your feet and ankle joints with high heels. If you are already experiencing some of these health issues discussed in this article, do not hesitate to Seek Medical Advice from a Doctor.